Product Description
Email Support
Accounting for Jewelers = A4J!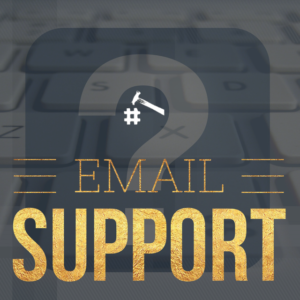 Accountability with an Accountant
Annual Membership Includes
Unlimited Email Support for your Bookkeeping and Accounting Questions
Copper Level Membership to Accounting for Jewelers for helpful training videos
Exclusive updates on Xero releases
15% off Accounting for Jewelers Products (Training Courses and Services do not apply)
It's like having an accountant in your pocket, but we won't leave ink stains or make you wear a pocket protector. We strive to be your outsourced accounting department based right here in Nashville, TN, USA. The yearly subscription for email support is administered through PayPal for your security. The cost is $99 annually. You can cancel your subscription anytime through your PayPal account. After purchase, you will be redirected to our Members Page where you will create a login to access your benefits.
What do I get?
Unlimited Email Support:  Have Your Personal Accounting Questions Answered
Confused on how to handle a transaction in your accounting software? Pulling your hair out over your inventory? Have a tax question? Email us anytime, anywhere. We will always respond within 24 business hours.
Any questions regarding Bookkeeping and Accounting for your Jewelry Business are welcome. This support service is available to teach you how-to's, tutorials, instructions, best practices, general bookkeeping and accounting help.
Additional rates may apply if your issue requires bookkeeping or accounting services or special projects to be done for you. If a question requires more than 15 minutes of responding, we will halt and let you know what is required of us to answer. Sometimes, digging into a problem in order to resolve it or provide detailed step by step procedures for a specific scenario may result in a reasonable fee. Fees for additional services will always be discussed in advance and vary depending on your needs.
You also get...
Copper Level Membership
Gain access to private training videos and materials on AccountingforJewelers.com to help you understand aspects of bookkeeping and tax filings. Updated quarterly with new content and a growing library of resources and the best technology for your business operations.
Discounts
Members receive 15% off of Accounting for Jewelers products AND everything we release is released there first! (Discount applies to downloadable products and excludes Training Courses and Services.)
Exclusive updates on Xero Releases
We use Xero's Beautiful Accounting Software and cater to Xero's Jewelry users. When Xero releases updates to features within the program, we show you how to use it.
For $99 annually, you are getting bookkeeping support like never before.
This means, you're paying $8.25 per month or 27 cents per day. What else do you spend less than $10 a month on that motivates your financial freedom, helps you make financial decisions for the health of your company and creates an informed business owner out of you?
Have a question? Let us know.
Please note, the price of subscription is subject to change, but all members are grandfathered in to the price at which they registered.
This price is a yearly subscription of $99, which will automatically be charged to your Paypal account on the same day each year. You can cancel your subscription at any time.