Product Description
Track your raw materials from purchase into finished goods properly and price accordingly.
This is a Workbook in EXCEL that is:
fully functional,
Pre-Formatted,
Pre-Formulated
You can start adding your inventory immediately.
There are tabs for each type of material, which you can customize for your needs.
The Finished Jewelry Pricing formula is based on a the Maximum Profits Pricing formula by David L. Feldman specifically for the jewelry industry and includes wholesale and retail markups.
You understand the concept of entering raw materials (gems, beads, chain, clasps, sheet metal) into inventory when you purchase them and entering the finished item (ie: gemstone necklace or thingamabob ring) so that you can enter it on an invoice when you sell it.
When sold, the retail price of the finished piece goes into the Sales Income and the cost goes into Cost of Goods Sold. The difference is your profit.
If you are confused here, then click here to brush up on your inventory knowledge with our recent post, or check out the online training course for Xero, which shows you exactly how to take the burden of financial luggage off your shoulders and gain control of your numbers.
You may be asking, how does Xero (or my accounting program) know which raw materials and how much of the value of cost of materials was used to make the necklace?  Do you have to go into your materials inventory and remove each gem, clasp, chain from the inventory once you sell it?
If this has you confused, you hit the nail on the head. Your perspective of inventory is exactly mine (and many others) and was my biggest hurdle to understand with jewelry accounting. I want to see the actual production costs in my Accounting Software by goodness! The thing is, most "inventory" programs do not have this, such as Lettuce, the QB Inventory go-to. If you are buying and selling the exact same thing, like ordering a finished necklace and selling that finished necklace, then those items can easily connect on both the Purchase and Sales side by completing that information for each individual item and it's no big deal.
Accounting programs only TRACK what can be found in a transaction. If you are purchasing something different than what you are selling, then your accounting program won't find the missing piece of where, when, and the cost associated of that conversion. Manufacturing? You know it. If you aren't buying a shirt and selling that same shirt for example, then you're missing a piece. Are you going to go into your accounting program and create a Bill of Materials to sell your materials to your Bench, every time you make something? I doubt it.
Your best intentions may want to argue with me, but I've seen how we real people operate.
A spreadsheet makes much more sense because you not only are tracking that movement, but you also are pricing it.
Get the Inventory Tracking and Pricing Workbook for Jewelry Makers!
Manufacturing/handcrafted jewelers always have at least 2 items that go into the finished product: metal and labor at the most basic level. There is no way in Xero, QuickBooks Online, or many of the desktop QuickBooks versions to track this. In QB Desktop for Manufacturers, you can, but that system is the opposite of intuitive and may be considered clunky, which leads to neglect or it not being maintained correctly. This leads down a bunny hole of unreliable information.
So, the solutions to track manufacturing are: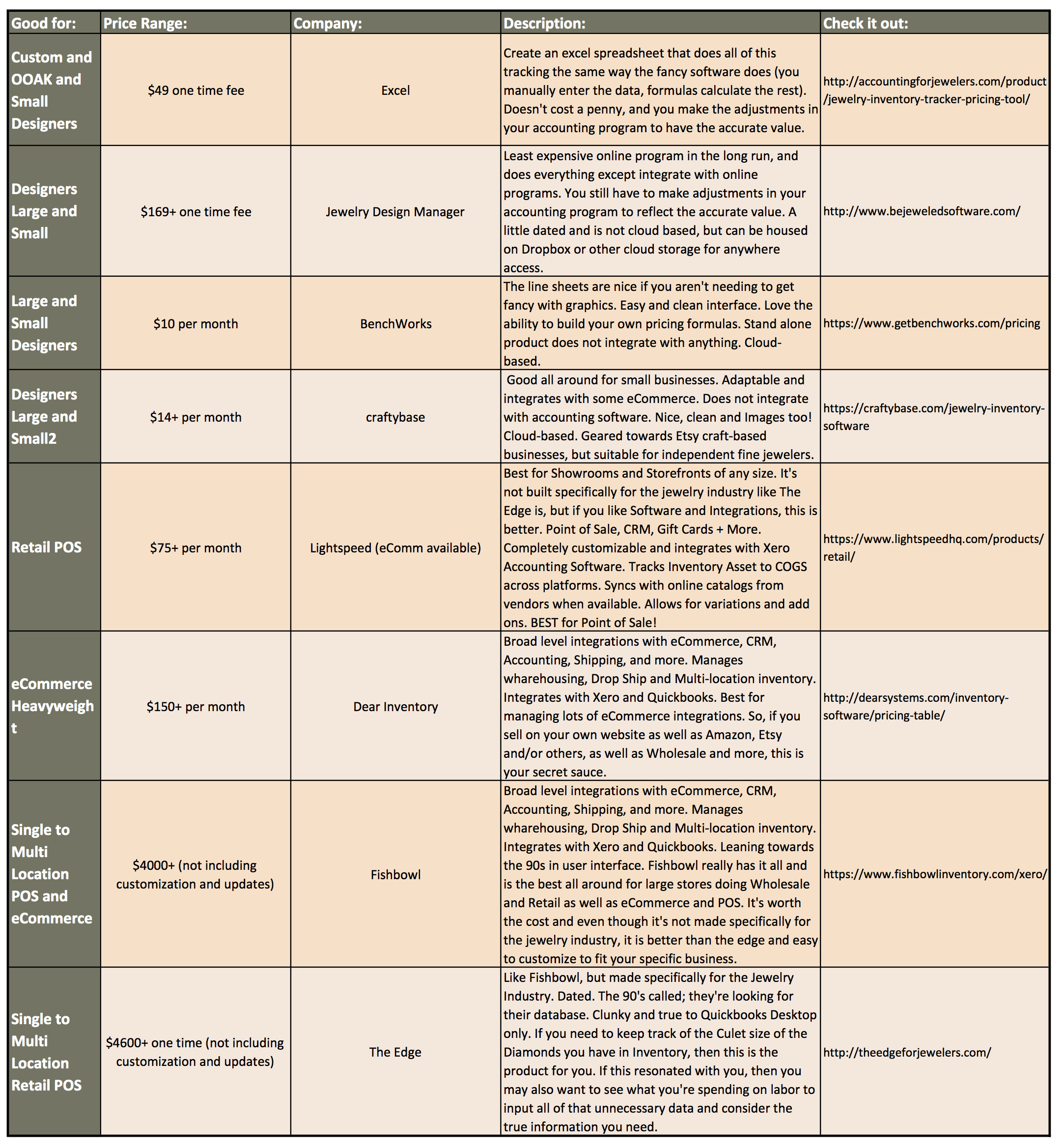 The problem with having a fancy program for Jewelry making is that if you make one of a kind, then the amount of time you spend entering all of that information is a waste of time. It only makes sense if you are selling limited edition or repeatable items. Spreadsheets make so much more sense for custom jewelers.
Essentially, "kitting" boils down to either maintaining what is called a Perpetual Inventory, where you track every itty bitty little scrap of metal. Or, the way that makes the most sense:  A Periodic Inventory, which is where you go through the year buying, making, selling, then at month end, quarter end or year end, make one simple adjustment in your accounting program to move the costs between Inventory Asset and Cost of Goods Sold. It took me years to accept this; I'm not kidding, I spent Years researching the best way to do this and was fixated on tracking how I converted my raw materials into finished goods.
My middle ground, happy-medium is to use something like Craftybase or a pre-formatted spreadsheet like what we have here. This way, you can track everything you want and create your pricing, see the markup, etc. and it's like Perpetual inventory, without the barcodes, something that is almost impossible for small businesses with in house fabrication. It makes doing a periodic physical inventory of actual hands-on goods (to account for waste, give-aways, things mistakenly not recorded, etc a breeze because you have a hearty list to go from and basically check off or modify amounts if needed.
Also included is the Cheat Sheet for Understanding Sku Numbers and Naming your Jewelry to identify it easily and create a system that works for you!
If you can physically see your goods (don't have a warehouse or multi-site location), and you're under 3 employees, then this is the way to go unless you can afford dear or another nifty assembly tool.
Scroll up to purchase the official Jewelry Inventory Tracker and Pricing Tool by Accounting for Jewelers
50% of your purchase of this product goes directly to David Feldman of Maximum Profits Pricing for his contribution to the jewelry industry in developing this formula after many years in the industry and witnessing first hand that businesses were not actually covering their costs.